Become part of Danas
Readers Club
- Get informed first - every night read the upcoming release of Danas

- Become the owner of a membership card, receive discounts

- Meet journalists and columnists.

- Become part of an exclusive Facebook Group, take part in debates, present topics
* Membership is active until you cancel it
In the late 1990s, we were banned, called out, stunned at every turn, but nothing could stop us from publishing true and objective news every day.

No government has been sympathetic to criticism, but we believe that this is one of the basic roles of the media - to inform citizens and be a corrective factor in society and the state.

Despite all the challenges, Danas survived and managed to keep its readers informed in a timely manner.

Over the last few years, Danas has been intensively developing its online edition, which shows a steady trend of visits.

Now we are recording millions of visits each month, but we lack the resources to further improve our online presence on the market and be even more up-to-date and offer quality content.

The online community of our readers is getting bigger and bigger and that's why we decided to bring it together under Readers' Club.

Each member has his / her membership card, receives a PDF edition by e-mail before the newspapers appear on newsstands, and the membership also allows them numerous discounts at various places.
* Membership is active until you cancel it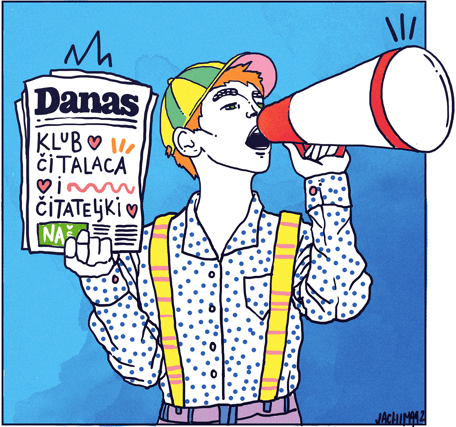 You can support Danas with a donation - one-time or recurring
1. With how much money do you want to support us?
Support Danas
* Donation is active until you cancel it.